It's our pleasure to introduce you to the "Rome International School Conference 2019" which will take place on May 27-28th at the Barcelò Aran Mantegna Hotel in Rome. The conference is organized by The Association of International Schools in Europe (www.aiseurope.org) and the theme is
"Fostering Successful Generations Through International Education".
The conference will be a great platform for your students and teachers to learn about different aspects of education and promote the values of a successful living generation. The main goal of the conference is to bridge the gap between education and application in day-to-day life. The sessions of the conference will be as follows:
Students/Teachers/Managers/Property Owners - Sessions

Paper Presentations

Poster Presentations

International Science Exhibition for Schools

RISC Teacher Awards
We are proud to host students from 40 different nationalities, including students from your Country.
The cost breakdown of the RIS conference is provided below:
Teachers

: 400 Euro

Managers/Property Owners

: 400 Euro

Students

: 400 Euro
Please feel free to browse through the web page of the RIS conference www.romeisc.com.

For any further questions please feel free to contact Caterina Cianfa via email at info@romeisc.com or through mobile phone at +39 327 8865569 (Whatsapp) or at +39 06 8953 4428.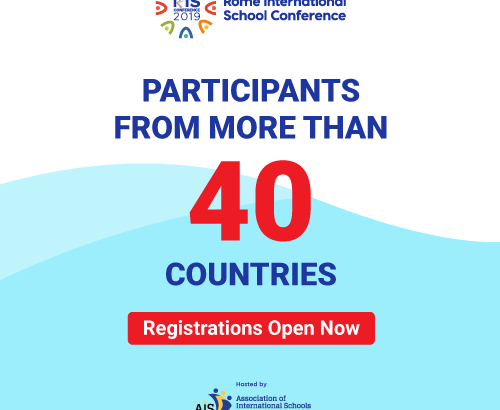 Deadline for paper submissions
Deadline for participant registration
Deadline for paper submissions:
Deadline for participant registration:
Association%20of%20International%20Schools%2C%20Via%20Bagnone%2059%2C%20Rome%2C%20Italy%2C%20Rome%2C%20Italy